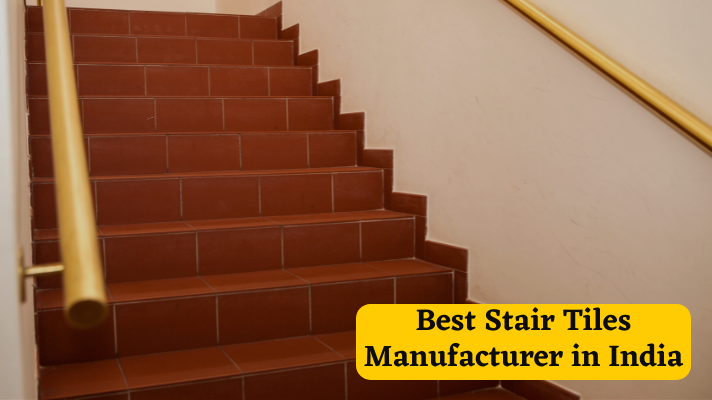 Traditionally, staircases were only made using natural stones, marbles, granite, etc. Though they had their own appeal to it, the thing that they lacked was the pleasing personality that is found in the homes or commercial constructions these days – Tiles. Tiles manufacturers and stair tiles distributors around the world have been pushing the idea of tiles for stairs, without having to compromise on the safety aspect.
Stair Tiles
Steps or staircases have been for long considered only as a functional addition to a home; the function it serves is to join one floor to the other. However, in this day and age the aesthetics of a house are stunted if the continuity of the design or beauty is not maintained throughout. And hence the requirement led to the evolution of special tiles for stairs.
The best stair tiles need to serve more than one purpose, as tiles cladding, they are supposed to be appealing and yet need to be functional enough to not endure an injury or hindrance to the seamless movement around the house or complex.
Stair tiles suppliers, such as Adila Ceramics have been pushing the idea of opting for tiles for stairs as opposed to other cladding solutions. They have been innovating and improving their tiles to suit all the needs for staircases.
How to Choose the Best Stair Tiles?
Stairs, both indoors and outdoors fulfill a specific purpose, their overall purpose cannot be simply overshadowed by the aesthetic aspect of it. Porcelain tiles are a versatile option that can be used in a variety of settings. When it comes to stairs, the tiles need to have a rich load-bearing capacity so as to hold heavy load transferring through them. And of course, the heavy foot traffic that staircases are subjected to. Porcelain tiles are known to bear heavy load and show no signs of it later, they are abrasion resistant to make sure they stay the way they were installed. Stairs need to be slip-resistant, frost-resistant, easy to maintain, and stain-resistant too.
Why Choose Adila Ceramics?
Adila Ceramics offers the best-in-class staircase tiles for inside your house, as well as for outdoor staircases. Adila's stair tiles are in every way perfect for all kinds of use, they are:
Resistant To Wear & Tear
Adila Ceramic and its porcelain tiles are known for their innate qualities. The tiles are resistant to wear and tear, for the life of the tiles they will not show any signs of it. No matter whatever the tiles endure, be it rough usage, the footwears, hailstorms, water anything, they are capable of withstanding it.
Capable to Bear Heavy Load
Their tiles are capable to hold on to and allow the movement of the heavy load over it, these tiles are fit to be used for stairs inside and outside the house or commercial spaces. Also, given the quality to hold weights and heavy footfall they are very much resistant to any scratches or abrasion.
Slip Resistant
The porcelain tiles that Adila Ceramic produce is of the highest order and hence are perfectly safe to be used on stairs indoors or outdoors. Their slip resistance quality avoids untoward incidences or accidents.
Water-Resistant
Stair tiles need to be water-resistant and easier to clean, the surface of the tiles created at Adila is perfectly water-resistant and hence able to retain their beauty of it. If water seeps into the tiles won't last long, as such the water-resistant property ensures the longevity of the tiles.
Easy to Maintain
The tiles are easier to maintain than any other cladding solution.
Adila Ceramics
Adila Ceramics is a leading stair tiles supplier the best stair tiles manufacturer in India, their world-class production facility, ultra-modern machinery contribute to their rise to being a globally renowned tile manufacturer. Their R&D department is always coming up with new and innovative ideas that are both environmentally friendly and useful. Adila Ceramics manages to amaze the industry with innovative, high-quality porcelain tile, and the company is well on its way to becoming a highly known brand.
Tiles are available in a variety of colors, shapes, patterns, and textures, allowing you to discover from the huge collection of stair tiles available at Adila. They are available in different sizes such as 120 x 30 cm, 120 x 20 cm, 90 x 30 cm, 90 x 20 cm. They are also available in two different finishes such as glossy or matt. At Adila Ceramics their design engineers have been able to create tiles with a different look such as Marble, concrete, Wood, Stone, etc. Step stair tiles are unique and cost-effective which enhance the beauty and value of a property such as your house or workplace.